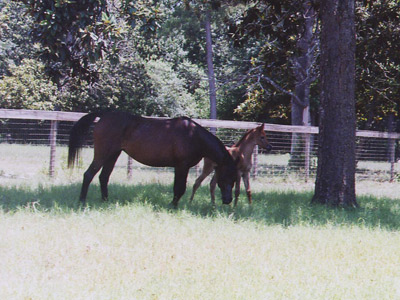 Heritage C was established in 1980 utilizing primarily Blunt, Foundation American and EAO bloodlines and evolved to become an exclusively Straight Egyptian breeding program in 1986. Having a vision of the classic horse of the desert firmly in mind, the search for a Straight Egyptian foundation mare brought us to Suseri (Ansata El Naseri x Sudiya by El Hadiyi) at Willis & Jimmie Flick's Glenglade Arabians. Of the Bint Sabah tail female family through Babson Arabian's *Bint Bint Sabbah, similar to the Ansata Nile family, Suseri carried numerous lines to Ansata Ibn Halima and looks every bit what her genetic background would imply. Several years later needing an additional mare line and having always been in awe of the National Futurity Champion Stallion, Nabiel (*Sakr x *Magidaa by Alaa El Din), Maisamm (Rofann x Maysa by Moniet El Sharaf), a *Magidaa grandaughter, joined us from Douglas & Margaret Marshall's Gleannloch Farms. These mares produced the building blocks for our next generation from sire lines such as Ruminaja Ali (through Ali Zaar and Ali Reshan) and Makhsous (through Calypso Dance, bred by Janice Busch). In recent years we added the Farida tail female line in Ravenwood Sensation, an exceptional individual and producer whose genetic heritage derives from Rancho San Ignacio, Gleannloch, EAO, Ansata and Babson breeding. She is an outstanding individual and producer whose specific pedigree elements of Moniet El Nefous, Ansata Ibn Halima and EAO Abla have blended well with our foundation lines.
Our sustained objective and vision since inception has been the pursuit of classic Arabian type, behavior and athleticism. A respect for and dedication to the Egyptian Arabian is exemplified in all that we do for these most cherished creatures. A belief in keeping the horses as close to their natural environment as possible is evident in our current facility and daily routines. In the tradition of the Bedouins, the Pashas and Kings, the Blunts and all the remarkable studs of the 20th century, we count our blessings each Spring.
Visitors are always welcome on the ranch. Heritage C is located 30 miles South West of Dallas, a 45 minute drive from the DFW Airport, as well as Love Field Airport.